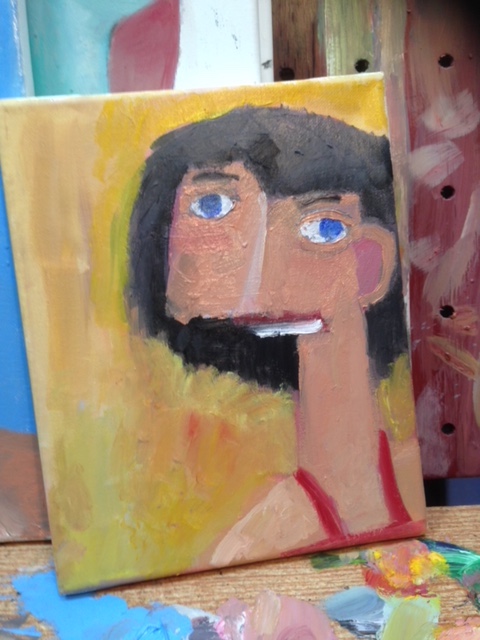 Image credit: "Young Girl in Red Bathing Suit," 2015 by Stevie Wonderland, artist.
"I was beaten by my dad, one time until I was unconscious. I almost died." With her head tilted and in a tender voice she asks, "How can a parent do that to a child?"
Her smile captivates my attention. "They're my original teeth. I take care of them. I'm 90." Ninety. I say that I can't imagine the horror of being beaten as a child and the peacefulness in her now. She acknowledges the change saying, "I used to be very angry."
Astonished by her youthfulness and gentle demeanor after revealing past wrath, I pause while connecting the fact that she lives in a second-floor condominium accessible only by stairs. No elevator. Ninety.
I lean down to pet her small dog. "Allie is 19 years old," she marvels, "I taught her to walk up and down the stairs." I listen to a few stories about her current volunteerism helping battered women ("a beaten child loses a piece of herself") and past experiences growing up on a farm. I'm curious and want to hear more about feeling "very angry" and about the relationship with her dad.
Her self-reflection and focus on helping others make me think that she accepts her past. I suggest that. I'm interested in her insights and what her reply would be to the Wonder Anew question, "How have the beatings by your dad affected your life?" She had three thoughts, the first stated quickly and clearly, the next more slowly but with confidence.
1. "I still don't trust men."
I ask, "All men?" She nods toward a condominium unit nearby calling the couple that lives there by name, one a man, "I'd trust these two with anything. But mostly I don't trust men. My dad hurt me and my mom allowed it. What do you do when your parents, the two people who are supposed to love and protect you, don't?"
2. "I speak up."
She talks about a public confrontation. "Recently I was shopping at a department store and heard a young man yelling at his girlfriend. I saw him shove her. So I walked over to him and said, 'I want to speak to you outside.'"
"And he followed you?" She nodded. "I asked if this is how he speaks to his mother or grandmother." She pauses as if remembering this event and her past, then responds: "He teared up. Just like a child." He told her that his dad slapped his mom, but he'd never hit or speak to his mom like he just did to his girlfriend.
"I'll never forget it."
"It?" I inquired, interested in what she meant.
"I won't forget him and his eyes. I saw that he realized he was doing what he learned from his dad."
There was one other way her childhood abuse affected her. She talked about hope.
3. "I volunteer to help women and children who are being hurt by men."
"For a long time, I took in battered women and their children. I want them to feel safe and know love and care. One time it was eight children. I was poor, and their father wouldn't even give me money for milk and bread. But I found a way. I always found a way." She then asked, "Have you heard of HOPE, the nonprofit in town that helps women and families in danger of domestic violence? I helped found it."
NOTE: Pair this story with John Leland's New York Times article about perspectives of elders growing old happily.