Topic: The day I became a bird
The Day I Became A Bird is an illustrated story about relationships and feelings. It's a story of a little boy who transforms himself to capture the attention of the one he loves.
About 
Project Talk + Listen is a practice to talk openly and listen empathetically.
It's an experiment and invitation to work with two experiences: talking with genuineness and transparency and listening from the other's point of view without judgment, evaluation, approval, or disapproval of the statements. It's not a discussion.
Guidelines
Invite someone to have a Talk + Listen experience.
Aim for 30 minutes total. Each person gets half the time to talk and listen.
Talk transparently. Listen quietly.
Agree to be curious, flexible, open, and courageous.
Sit, stand, or walk as you talk or listen. It's up to you.
Do This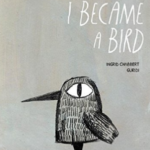 Find The Day I Became A Bird written by Ingrid Chabbert Guridi and illustrated by Raúl Nieto Guridi at your library or favorite bookseller. Read it with your partner.
Take turns talking and listening as you:
1. Describe what you see. This might sound absurdly simple. It's not. This quote explains what is meant by describing and why it's important:
"Describing is a process of overall observing, particular noticing, and telling what you see or otherwise sense...To describe is to name it and its characteristics and qualities...People seem to believe that if what they are asked to describe is in front of you and them, then they think there is no need to say what they see because they wrongly assume that we all see the same things in the same way. We do not. We look at things differently, we notice different aspects, and we use different words when we tell about what we see." - Terry Barrett, CRITS (in contract, Bloomsbury Publishing, London)
2. Complete each of these two sentences in paragraphs.
When I saw/read _____, I thought _____ …
When I saw/read _____, I felt _____ ...
3. Later, reflect on your Talk + Listen experience. If you choose, share an insight with your partner.
SHARING MY TALK AND LISTEN REFLECTIONS
While listening to my partner describe I was in a hurry for my turn. I sometimes ran into her words sort of like what happens when I walk too closely behind someone and step on their heels.

The process of describing each page (naming exactly what is seen) with my partner changed the meaning of this story for me. A story about first love became a parable of curiosity about becoming and emptiness.

I used this page for the "when I saw....I thought/felt" part...I noticed the anatomical drawing of bird parts, one wing separated and placed among other drawn birds. When I saw that wing, I thought about how for my whole life I've wanted to fly. Literally. I wanted to be an astronaut and was told in middle school by a female teacher that I couldn't because I was a girl. As I said this aloud to my partner, I felt surprised and relieved because I saw a pattern in the retelling of this story over the years: I focused on my angst about the moment someone said I couldn't. I now see that I use this story to blame the teacher. When I saw that wing, its meaning pivoted. There are other ways to fly. Imagination, determination, and resilience can take flight. And, I can choose what I believe: just because someone says something does not make it true. If I wanted to fly, I could have. Yes, women equality issues were more burdensome in the fifties, but I am a few weeks younger than Sally Ride, the first American woman astronaut to go into space.

I sometimes closed my eyes to see and feel from my partner's point of view while she spoke. On this page, she said, "When I look at Sylvia with the binoculars, I feel strongly selfish." She talked about focusing so much on one thing that her back is literally turned away from the one she cares about. She is a bird-watcher and photographer, and extends the only-having-eyes-for-bird-watching experience to her primary relationship. At one point, she paused. I opened my eyes and saw her repeatedly dab tears from the corner of her eyes. In a whisper so quiet, I leaned forward: "When we go bird watching, I take pictures of birds, and he may only take 3 or 4 pictures —but they're of me. He takes pictures of me. I admire his love. He's way better at love than I am. He gets way more out of me watching birds, as much as I get seeing the most extraordinary bird. It's amazing to be the object of such a love and humbling. I don't return it the same way. It makes me really happy, and it makes me cry." A minute passes. I sense her awareness of this emotional duality. I'm consciously quiet, my breath shallow. As I write this, I still sense this moment of loving and feeling loved.