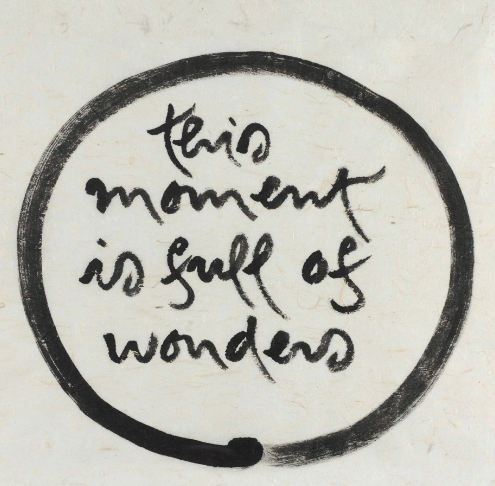 This Moment is Full of Wonders, A book of calligraphy. Thich Nhat Hanh
What is the relationship of Project Talk + Listen to Wonder Anew?
Well, Wonder Anew is a question-guided practice to work with personal difficulty. Someone chooses to take a personal problem through the eight questions by writing responses. After writing, the magical step is to read what is written out loud to a confidant.
This is where T + L helps.
Project Talk + Listen asks us to be empathetic listeners to practice seeing-through-the-perspective-of-the-teller. That is very hard to do. It means listening without offering advice or reacting with approval, disapproval, or criticism. The listener is there and when this happens the teller knows, feels seen and heard, and both feel connected.
Project Talk + Listen asks us to talk openly. In Wonder Anew the first question asks us to describe our difficulty. Like a detective, we're asked to say what we see before then sharing thoughts and feelings.
Project Talk + Listen is not a discussion. Someone talks, someone listens. Just like we do in the Wonder Anew process.
Thich Nhat Hanh says that true love is being present for another. That's a good way to describe how Wonder Anew can be beneficial.
NOTE: I wrote about my inspiration for Wonder Anew here.