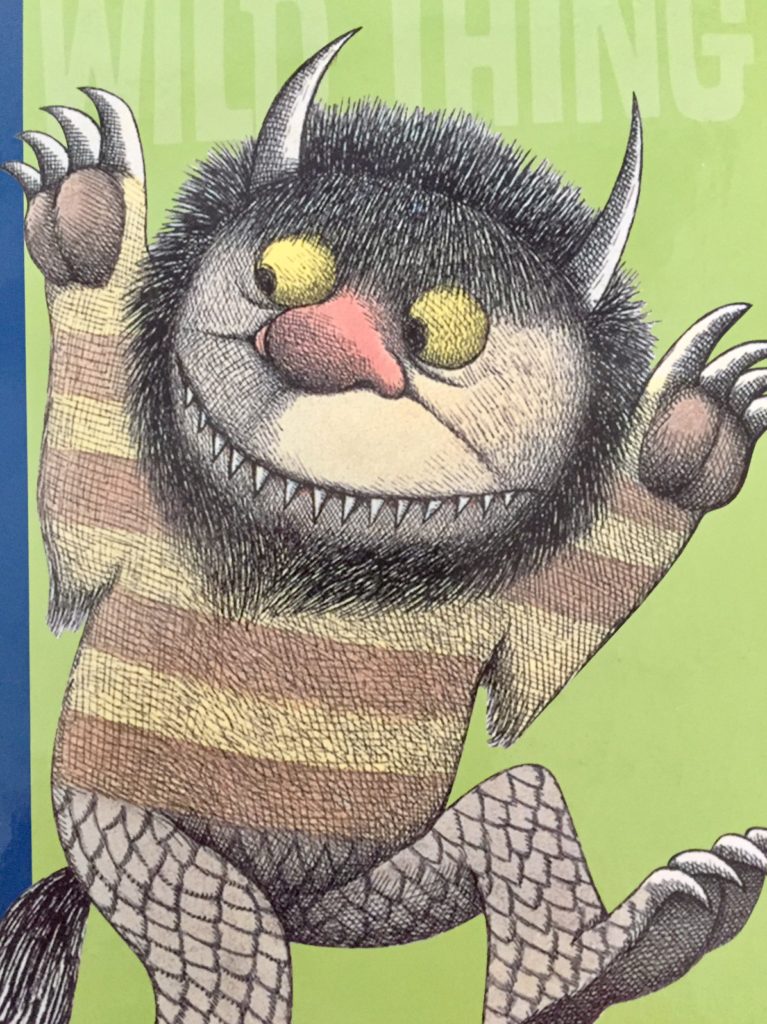 Image: Illustration by Maurice Sendak used as the cover of my Wild Thing book of notes.
"And now" cried Max, "Let the wild rumpus start!" – Maurice Sendak, Where the Wild Things Are
I was in the middle of cleaning out an overstuffed file drawer and found a book.
Inside are my weekly classroom meeting notes. On a Wednesday, we began the day with a class meeting. Twenty-four three-to-six-year-olds sat in a circle with two teachers. One led the meeting while another wrote word for word what a child said.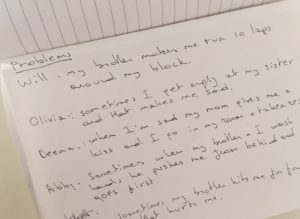 What I discovered was a connection to my work in the classroom and my work today: I did mini Wonder Anew sessions in the preschool with toddlers. I've been teaching others to face personal difficulty for a long time. But, toddlers?
Wow.
Curious about what difficulties a toddler might identify? Here is an excerpt from years of shared problems:
"My brother makes me run 10 laps around the block."
"Sometimes when my brother and I wash hands before dinner, he pushes me from behind and goes first."
"Someone said a bad word to me on the playground."
"My mom accidentally threw my candy in the trash."
"I can't find my videos."
"My sister keeps following me."
"All of a sudden, a few nights ago, my brother was being grumpy and wasn't listening to dad and was blaming his grumpiness on me."
"My brother says I'm mean and I'm really not."
"I need something that will make my brother be nice to me."
"My brother doesn't want to be my brother."
"My brother says scary things like there is a snake in the house."
"My mom won't let me watch Spiderman."
"My mom is lying. She says she is 29 and she's really 42."
Just being able to identify and say out loud their problems are an important step and the first of the eight Wonder Anew questions.
The children then answered the important second question—"What feelings are you having?"—which created some emotional space and provided information for them to figure out how to work with their problems.
I knew that these meetings were crucial to building intra and interpersonal intelligence. And, I believe these class meetings increased the children's ability to be present for other lessons such as reading, writing, science, and history in the way that if I talk to my partner about what's bothering me, I feel better, gain insight and make space to see, feel, hear, and act anew.
These children also got a peek at and some experience with a lifelong-serving notion that we all have problems, problems happen throughout life, and the idea that the problem isn't the problem—the problem is figuring out how to work with the problem. That may sound like common sense, however, I often hear comments such as, "I thought I was the only one with problems" and "I didn't know that so many of my friends have similar problems" and "so I have a choice about how to work with my problem?"
Finding the Wild Things book reminds me that the openness, willingness, and curiosity I saw in the children is present in all of us.
Now, where is that key to that courage and curiosity it takes to look and free oneself? (Hint: in your own pocket.) Oh, and if you're ready, here are the questions.
NOTES:
A little more from the preschool classroom:
"So, who has a problem to share?" Hands fly up. We go around the circle one-by-one so every child can say their problem out loud. What happens next? Read more HERE.